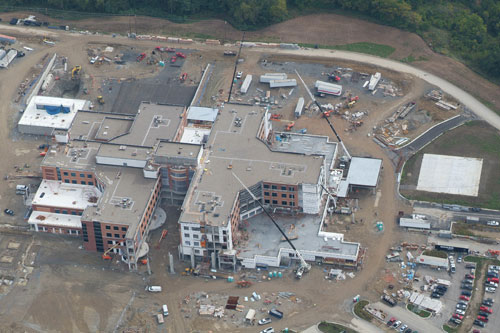 When executives from Middletown Regional Hospital realized a need to expand and improve their facilities in order to continue to meet the health care needs of the region, they envisioned Premier Health Campus. Three miles to the east of their McKnight Drive facilities, Premier Health Campus is a one-of-a-kind medical campus that aims to provide a unique blend of community partnerships for medical services, technology, senior housing and health career education.
The construction cost for the hospital alone sits at approximately $195 million dollars for the 5-floor facility that in its completed state will is able to provide room for 250 patients with expansion capacity to add room for hundreds more. Construction of the new hospital began on June 8, 2005 with a ceremonial groundbreaking. Construction has proceeded according to plan and budget, and Atrium Medical Center will be opening on December 9th. Though construction is finished, there is still more work to be done.
Wednesday, November 28th was the start of the big move- equipment, records, and to finish things off on the 9th, people will all have to be moved from Middletown Regional Hospital to Atrium Medical Center. A Canadian company specializing in hospital moves named Health Care Relocations has been brought in to assist in the 12 day move. Patients won't be moved until the final day, requiring the use of a 'fleet' of ambulances, with one scheduled to depart from McKnight Drive every 8 minutes carrying a new patient. Every patient will be individually transported from Middletown Regional Hospital to Atrium Medical Center on December 9th, except for the patients in the Intensive Care Unit. Middletown Regional Hospital's ICU will remain operational until the patients there have stabilized enough to be moved, though no new patients will be admitted starting on Atrium Medical Center's official opening on December 9th.
For more information on Atrium Medical Center including a detailed map of what the campus will look like upon completion see
Hospital Move Requires Professional Logistics
.