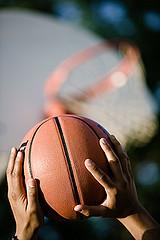 Miami University Middletown has been a college branch campus for Miami University Oxford for many years. It functions just like a normal college. It has normal classes, students and faculty.It also has a state hampionship basketball team.
Last Sunday, the Miami University Middletown Men's Thunderhawk basketball team traveled to the University of Ohio-Chillicothe to compete for the ORC State Championship for the first time under the leadership of head coach Bob Nocton, who has been there for four years. The one hour and fouty-five minute bus ride was filled with eager anticipation as MUM traveled on its way to the Championship game. Last year, #1 seeded MUM was knocked off in the semi-final round by rival Miami University Hamilton. Needless to say MUM was ready to make a statement, which they did.
This season was an incredibly good one for the team. They had an impressive record of 24 wins and 6 losses overall. But that is not the only impressive record, the team also capped off with an undefeated 13 wins and 0 losses in their ORCC Conference naming them league champions for a second consecutive year. This accomplishment again landed the Thunderhawks the #1 seed in the tournament bracket.
After an impressive and easy victory against Ohio University-Eastern the day before, the Thunderhawks were hyped and ready to take on the University of Cincinnati-Clermont who was last years tournament champs. But, as they had done all season, the Thunderhawks answered with an impressive effort offensively and a stunning defensive performance pulling off an 83-69 victory.
This was do to an impressive display of talent from the Thunderhawk starting five, all of which were in double figures. Freshman Curt Thompson, from Milton Union, had 12 points, sophomore Thomas Wilson, from Princeton, added 11, freshman Jeremy Williams, from Medowdale, finished with a great 19, freshman Charles Thompson, from Aiken, had 21, and junior Brad Bergman, from Botkins, added 10. Brad Bergman, who has finished his career at MUM was very close to performing a triple double and was named the MUM representative to the All-Tournament team. Charles Thompson, leading scorer for the Thunderhawks, was named tournament MVP.
The team has many good players and a very deep bench which was a key factor in their success this season. An impressive end to a very impressive season. The coaching staff at MUM is already hard at work recruiting players to carry on for next season.
Congratulations to the players and coaches representing the Miami University Middletown Men's Thunderhawk basketball team.