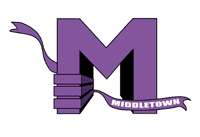 The news this afternoon is looking pretty good for the Middletown kids who were in danger of being without sports of any kind this year. The announcement that a solution had been reached was made at 3:00 p.m. today in a press conference called by school officials.
Below is the entire statement just released by an anonymous group involved in the fund raising:
Statement:
Thanks to the efforts of many different segments of the entire community, our Middletown Junior and Senior High School students will all have the opportunity to participate in extra curricular activities this fall.
The coaches and advisors stepped up to work without pay, the Administration has cut drastically into the support services of the Athletic Department and other cuts have been made in the school extra-curricular budget.
The Middie Touchdown Club and Middletown High School Athletic Boosters have dug deep into their treasuries. Many, many private citizens and businesses have made significant donations of cash to the 543 Committee and Booster Club.
Collectively, all those efforts have brought down the cost for individual
families. That result, coupled with a financial guarantee from several citizens will mean that all Middie activities will be available this fall.
Everyone involved stresses that this is a short-term fix, just to see that all
students can participate in the activities that mean so much to their education and college futures. All of these fees, above the usual pay-to-play fees are expected to be refunded once the two levies are passed in November.
Everyone also understands that, while this is not a perfect solution to a very complicated issue, it is the best that can be done on such short notice. We know "No Good Deed Goes Unpunished." Those of us involved know we did what was right at the time.
To read more on the
funding of Middletown School Sports
visit MiddletownUSA.com