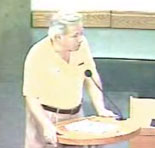 The most recent addition to the race for Middletown's first directly-elected mayor is well known community activist Merrell Wood, former director of TV Middletown, founder of Middletown Habitat for Humanity, founder of the Sink Or Swim foundation, and chairman of the Middletown Park Board.
Merrell Wood is a familiar face at Middletown City Council meetings, and the same can be said about his peers. Two other mayoral candidates have experience in Middletown's government: Larry Mulligan Jr. is a current member of city council representing the 2nd ward. Another candidate has already served as mayor from 1997 to 2001, and comes with a plethora of other public service experience under his belt as well, Fred Sennet. Other community activists campaigning for the job are frequent city council and school board critics
Paul Nagy
and
Nick Kidd
. Both have worked in civilian organizations towards the betterment of the city and have often been vocal about their opinions.
Current vice-mayor Tony Marconi had also pulled petitions to campaign previously, but decided not to run stating that he felt he could better serve the city in his current position. Two other residents, Mike Presta and James Garrett also pulled petitions but did not file them.