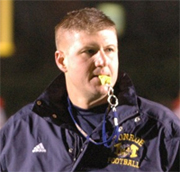 After consulting with the community about what kind of characteristics they want their head coach to have, the survey revealed that "The community clearly wants someone who is a leader not only to the players but in the community. They want a winning team, but they want a team of players who are making sound academic progress and are being prepared for their 'after high school' future."
Jason Krause has been offered the head coaching position for Middletown High School. Principal Dennis Newell states that, "His long-term commitment to youth and deep understanding of football will serve our program well. He has high expectations for all student athletes both academically and athletically."
Jason Krause will also be an intervention specialist at MHS and will work with students who need extra help in core classes. He will also be the coordinator for all sport's weight training programs.
Good luck to
Head Coach Jason Krause
and the MHS football team!