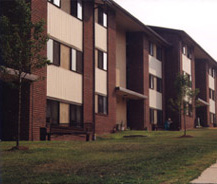 The Section 8 Housing Vouchers in Middletown have gone from a $2.47 million program with 767 vouchers to a $9.64 million program with 1,663 vouchers in only eight years. Middletown has far more vouchers than the rest of Butler County which has less than 1,000. This has Ward Councilman David Schiavone asking questions.
According to the City Manager, Judy Gilleland, the growth in the program was done "without a conscious conversation with city council." She says the increase in the number of vouchers shows that "the city has not been actively managing the program and council has not been meeting to develop policies for public housing."
The question seems to be whether the city should administer the program or whether the city should establish a separate commission for the program. Gilleland is not sure why the former City Manager, Ron Olson, and staff determined the city needed additional vouchers in the first place. She said that if council chooses to continue administering the program that the city staff "will spend time ensuring the program is supported correctly."
Got something you want to add? Join the MUSA Forum to discuss
Middletown Section 8 Housing