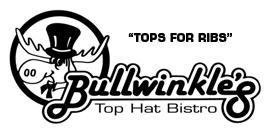 Bullwinkle's Top Hat Bistro of Miamisburg will soon be opening a new store in the east end of Middletown on Culbertson road.
Bullwinkle's has been located in Miamisburg since 1986 and is well know to Middletown residents for great food and great atmosphere.
With the continued growth of the east end and the coming move of Middletown Hospital to the east side it's a certainty that Bullwinkle's will not want for potential customers.
I know the staff here at MiddletownUSA.com look forward to the move and wish Bullwinkle's all the best.