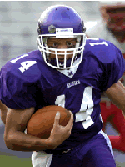 Middletown, Ohio has been and continues to be a home to some of the most competitive sports teams and athletic individuals the state has ever seen, and on a couple rare occasions among the best in the world.
Middletown can boast claim to basketball legend Jerry Lucas, called by some the greatest high school basketball player of all time. Cris Carter, much acclaimed vikings wide receiver and now host of HBO's Inside the NFL, and his older brother Butch who went from playing basketball in the NBA to coming home and coaching for our very own high school. Todd Bell, Gay Brewer, Howard Jones and Charlie Root, all Middletown Middies who went on to become great names in sports history.
The legacy of Middletown Middies
in the world of professional sports is not yet over though, and even as we can remember and take pride in the amazing athletes that have come from our past, we look forward to the great athletes that are still waiting to make their mark in professional sports. Maybe the source of our greatest pride hasn't emerged yet, or maybe he's currently on the path.