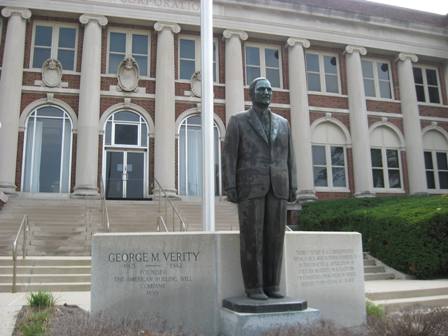 In 1901, George M. Verity relocated his business headquarters of ARMCO from Cincinnati to Middletown due to the request of the local community. Since then ARMCO, also known as AK Steel, has been part of the city of Middletown until this year.
AK Steel has since moved their headquarters to West Chester, and in doing this, abandoned the statue of George M. Verity. The decision to move the headquarters has raised the question, "What is to become of Verity Statue?".
The decision has been made to move the statue from its current location, former AK Steel's headquarters, to the new location of Miami University of Middletown. "Everyone is thrilled with the move, ARMCO retires, the Verity family, because of the new location, the statue will be seen by more people." said Alan McCoy, AK Steel Spokesperson.


The inscription on Verity Statue reads:
"
ARMCO Spirit is a comprehensive vital force which finds expression in the practical application of policies builded on a platform of christian principles in which selfish purpose has no place." by George M. Verity who moved ARMCO Steel to Middletown in 1901.