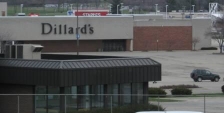 After a long history with the Towne Mall Dillard representatives informed Middletown city officials of their intent to close the store. No additional information is available at this time.
Dillard's was of course the old McAlpin's whos history pre-dates the Towne Mall itself.
This decision comes as no surprise to the readers who have commented on the
Dillard's story on MiddletownUSA.com
. With Towne Mall management problems that have persisted for years, which have ultimately resulted in a good number of stores leaving, many readers see this as the final blow for the Mall as it exists today.